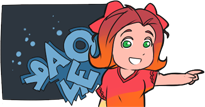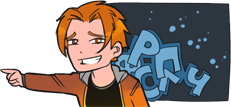 Back to all news
Other posts for this topic: In restaurant
Ты опять ешь пиццу? [ty ap'at' esh p'itsu?] - You are eating pizza again?

Да, но сегодня я собираюсь съесть только два кусочка [da, no s'evon'ya ya sab'irayus' s''est' tol'ka dva kusochka] - Yes, but tuday i'm going to eat only two slices
Постоянно теперь пью Ваш кофе, такой вкусный [pastayano t'eper' p'yu vash kof'e, takoj fkusnyj] - Now I constantly drink your coffee, so delicious.

Вы туда что-то добавляете? [vy tuda chto-to dabavl'ait'e?] - Do you add something to it?

Героин [g'erain] - Heroin

(c) Настенькины Комиксы
Для приготовления фаршированной щуки вам понадобится: щука (1 кг), белый хлеб, 1 яйцо, 50 г сливочного масла, 20 г молока, 1 лук, половина лимона, соль, перец, лавровый лист. Нужно достать мясо и внутренности из щуки, не повредив ее кожу. Отрезать голову. Нафаршируйте щуку смесью мяса щуки, хлеба, молока, масла, яйца. Посолите и поперчите. Готовый фарш поместите в кожу щуки и запекайте в духовке 2 часа при температуре 180 градусов. Щуку нужно запекать на фольге. Для этого выложите щуку на лавровые листы. Готовую щуку украсьте кольцами лимона.
For preparation of the stuffed pike you need: a pike (1 kg), a white loaf, 1 egg, 50 g of butter, 20 g of milk, 1 onion, a half of a lemon, salt, pepper, bay leaves. It is necessary to get meat and interiors out of a pike, without injuring her skin. Then cut off the head. Stuff a pike with a mix of meat of a pike, bread, milk, oil, egg. Add salt and pepper. Place ready forcemeat in the leather of a pike and bake it in an oven about 2 hours at a temperature of 180 degrees. A pike must be baked on a foil. For this purpose put a pike on bay leaves. Decorate a ready pike with lemon rings.
готовить
[gatovit`]
-
to prepare
соль и перец
[sol' i perets]
-
salt and pepper
Французское блюдо "рататуй" родом из Прованса, где его готовят с различными вариациями. А в России готовят его аналог - овощное рагу. Овощи режут колечками и запекают в духовке, либо кубиками и тушат на медленном огне. Для приготовления этого блюда нужны: сладкий перец, оливковое масло, чеснок, лук, помидоры, баклажаны, кабачки, соль, перец, специи (прованские травы).
The French dish "ratatouille" comes from Provence, wh ere it is cooked in various ways. In Russia we make its analogue - vegetable stew. Vegetables are ringed and baked in an oven or diced and stewed over low heat. To prepare this dish you need: sweet pepper, olive oil, garlic, onion, tomatoes, eggplants, vegetable marrows, salt, pepper, spices (Provence herbs).
специи
[spètsii]
-
spices
сладкий
[slàdkij]
-
sweet
овощи
[ovoshhi]
-
vegetables
масло
[màsla]
-
oil, butter
круглый
[kruglyj]
-
round
куб
[kup]
-
cube (noun, m.)
помидор
[pamidòr]
-
tomato