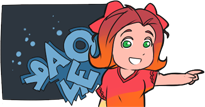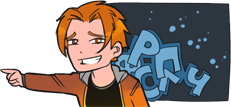 Posts
Крылатое выражение "Большому кораблю - большое плавание" стало популярно в России после постановки комедийного спектакля "Ревизор" Гоголя в 1836 году. Выражение имеет два значения: шутливое и ироническое. В первом случае речь идет о пожелании успеха талантливому человеку, а во втором - проявляется ирония по отношению к слишком амбициозному человеку.
The expression "bol`shomu korabliu - bol`shoje plavanijie" (a great ship asks deep waters) became popular in Russia after statement of the comedy performance "Revisor" (Auditor) of Gogol in 1836. This expression has two values: playful and ironical. In the first case it is about a success wish to the talented person, and in the second - it is shown the irony in relation to a very ambitious person.
ребёнок
[rib'ònak]
-
child
плавать
[plàvat']
-
to swim
Небо — пространство над поверхностью Земли или любого другого астрономического объекта.
В общем случае — панорама, открывающаяся при взгляде с этого объекта в направлении космоса (с) wikipedia
Выражение "Как вы мне дороги" или "как ты мне дорог" используется для того, чтобы показать, что ради кого-то близкого или хорошего друга приходится терпеть какие-то неудобства или выполнять лишнюю работу.
The expression "Kak vi mne dorogi" or "kak ti mne dorog" is used to show that for the sake of someone close or some good friend it is necessary to suffer some inconveniences or to perform excess work.
дорогой
[daragoj]
-
expansive
Как Вы расслабляетесь после работы? Что вы выберите: вечер на диване перед телевизором или прогулку по парку? Оставляйте свои ответы в комментариях!
How do you relax after work? What will you choose: to spend evening watching television from the sofa or to go for a walk in a park? Leave your answers in the comments!
отдыхать
[atdykhàt']
-
to rest
диван
[divàn]
-
sofa, couch
Китайский фото сет девушки, которая читает... как ремонтировать экскаватор. Учите русский. И удачных Вам фотосетов!

Chinese photoset with girl who reads... how to repair excavator. Learn Russian. And have a good photosets!
Какая разница между глаголами "лететь" and "летать"?
What is the difference between verbs "лететь" and "летать"?

Both verbs mean the same - to fly. Although, when we say "лететь" we talk about one-time action and it usually has one direction where to.
And we use "летать" when we talk about repeatable action, the action in several different directions and general ability of someone to fly.

Compare:
Вчера я летел в Москву. - Yesterday I was flying to Moscow.
Когда вы летите на острова? - When are you flying to the Islands?

Вы часто летаете в снах? - Do you fly often in your dreams?
Многие люди боятся летать. - A lot of people are afraid of flying.
Птицы умеют летать. - Birds can fly.
Как вы думаете, что это? Средневековый замок? Нет, это школа в России, в Йошкар-Оле!
How do you think what is it? Is that a medieval castle? No, this is a school in Russia, in Yoshkar-Ola!
школьник
[shkol`nik]
-
pupil
школьница
[shkol`nitsa]
-
pupil
они идут в школу.
[anì idùt f shkòlu]
-
They are going to the school.
Мойнакское озеро расположено в Крыму в городе Евпатория (Россия). Вода озера имеет высокий уровень минерализации. На дне озера имеются лечебные грязи с высоким содержанием солей и полезных микроэлементов, которые используются в медицинских целях. Грязи озера принесли Евпатории славу бальнеологического курорта.
Moinaksky lake is located in the Crimea, in the city of Yevpatoriya (Russia). Water of the lake has a high level of mineralization. At the bottom of the lake there is mud with a high content of salts and mineral elements which are used for medical purposes. Mud Lake made spa resort of Yevpatoria popular.
город
[gòrat]
-
city (noun, m.)
полезный
[paleznyj]
-
useful
Ежегодно 20 июля во всем мире празднуется Международный День Шахмат. Этот праздник был установлен в 1966 году Всемирной шахматной федерацией. В этот день организуются различные шахматные турниры и чемпионаты. Родиной шахмат является Индия. Первые шахматы появились полторы тысячи лет тому назад и быстро стали популярны во всем мире.
Annually on July 20 Chess International Day is celebrated around the world. This holiday was established in 1966 by the World chess Federation. This day various chess tournaments and championships are organized. The homeland of chess is India. The first chess has appeared one and a half thousand years ago and quickly became popular around the world.
праздник
[pràznik]
-
celebration, holiday, festival
быстро
[b`ystra]
-
quickly
тысяча
[tysyacha]
-
thausand
шахматы
[shàkhmaty]
-
chess
Средство связи между водителем и пассажиром, 1970-е.